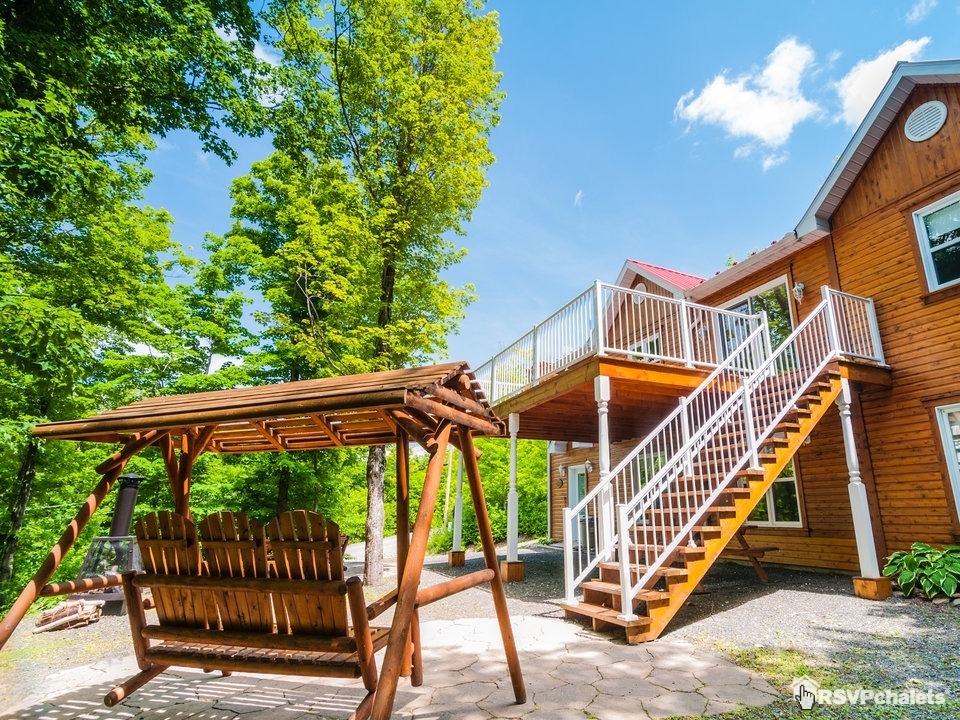 L'Enchanteur
This magnificent tourist residence is situated at the Domaine des Montagnais, in a peaceful quiet and safe location. Your housing offers grand windows, an exceptional view of the Mont-Mégantic, as well as a yard with a terrace, a barbecue and a fire space. In the summer, the pool and the playground of the Domaine are exclusively accessible to the renters of the Domaine. Tranquility is assured.
22 people
5 rooms
3 bathrooms
1 fireplace
---
Photos of the cottage
---
Equipment and amenities
Effets de base pour salle de bain inclus
With a capacity of 22 people, this touristic residence of the Domaine Des Montagnais is perfect for couples, for families, or for a vacation among friends. This place is ideal to relax, no matter how long your stay is.
This touristic residence includes 5 bedrooms, 2 living rooms, 3 bathrooms and 6 sofa-beds:
Room 1: 1 bed 60 inches

Room 2: 1 bed 60 inches

Room 3: 1 bed 60 inches

Room 4: 1 bed 60 inches

Room 5: 1 bed 60 inches
In order to enhance your stay, the cottage offers an interior fireplace, a therapeutic bath, satellite television and Wi-Fi.

Fully equipped kitchen: Dishes, casseroles, service platters, salad bowls, utensils, kitchen articles, wine classes, toaster, fondue plates, coffee machine (with filters), a mixer, and a food processor. BBQ only available during summer.
Complete bedding: Sheets, pillow cases, blankets and bedspreads, bath towels, hand towels and washcloths.
Equipments for children: High chair, books and toys for children.
Other: Mini safety kit, flashlight, broom, mop and bucket, extinguisher.
What to bring for a comfortable stay: Spices, salt and pepper, condiments, oil, butter, coffee, napkins, plastic containers, plastic wrap (saran-wrap), gel capsules for fondue dishes, your favorite music, and interior and exterior games.
Winter: Snowshoes, cross-country skis, etc.